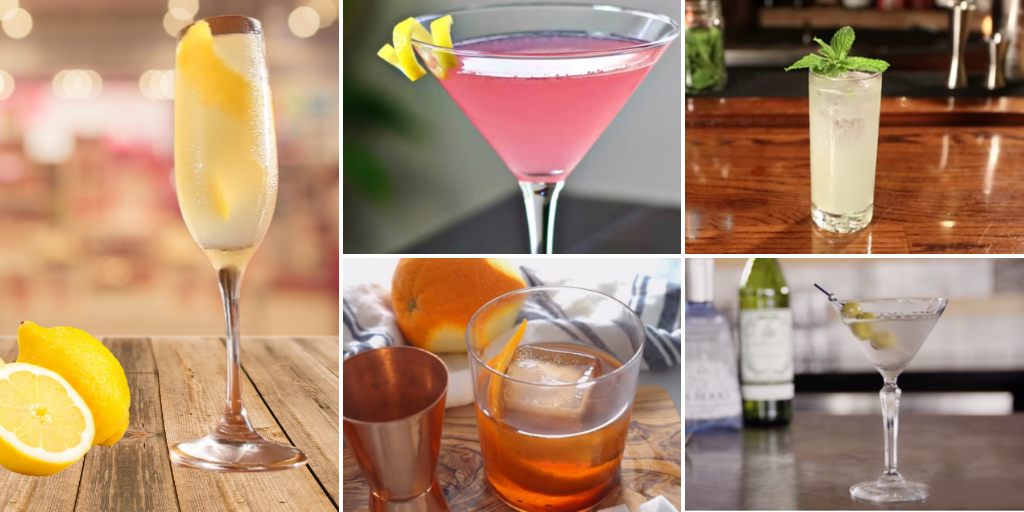 Like all things, cocktails have a long history, and a handful of them have the success of being famous and well loved today. No matter which bar you go to, chances are, these drinks are much patronized and some of them even have their fair share of movie appearances. If you're interested in learning the secrets of classic cocktails, you can never go wrong with this lineup.
Arguably the most prominent cocktail popularized by James E. Pepper, the Old Fashioned stays true to its name. Its composition is the very definition of "cocktail". Yes, it is strong but what makes it so special is the symphony of ingredients that overall makes a cohesive drink. It is the OG of cocktails with creative variations. 
Ingredients:
2.25 oz. Bourbon

1 Sugar cube

4 dashes Bitters 

1 big ice cube

Orange peel (for garnish)

Maraschino Cherry (optional)
Preparation:
Combine sugar cube and bitters in an old-fashioned glass then, muddle.

Add the bourbon and ice cube. 

Stir well

. Spritz the orange peel into the drink and run it around the glass. 

Garnish with the peel and cherry.
Martini often doesn't need an introduction. We see it all the time in movies and it even inspired countless variations. It is best served cold and despite the debate about whether to have it shaken or stirred, the right choice would be the latter.
Ingredients:
2 oz. Gin

1 bar spoon Dry Vermouth

Ice cubes

Olives (for garnish)
Preparation:
In a mixing glass, combine gin and dry vermouth.

Add ice cubes and stir until the desired dilution is reached.

Strain the mixture into a chilled cocktail glass.

Garnish with olives. 
The Cosmo is the epitome of a girls' cocktail. While it has varying origin stories, people find the taste more important. Its sweet and tangy flavor, as well as its pink hue, makes it even more appealing to women. 
Ingredients:
1.5 oz. Citrus Vodka

1.5 oz. Cointreau

1 oz. Lime juice

¼ oz. Cranberry juice

Ice cubes

Lemon twist (for garnish)
Preparation:
Measure ingredients and pour them into a cocktail shaker.

Add ice cubes, cover, then shake. 

Strain and pour the mixture into a cocktail glass. 

Garnish with the lemon twist.
Harry McElhone created this drink during World War I. He named it after the French 75 mm field gun as a metaphor for the same effect it has – being hit with the gun. It is a fancy crowd-pleaser that offers the sophisticated taste and fizz of champagne with the punch of gin.
Ingredients:
Champagne (to top)

1 oz.Gin 

½ oz. Lemon juice

½ oz. Simple syrup

Ice cubes

Lemon peel (for garnish)
Preparation:
Measure gin, lemon juice, and simple syrup and pour them in a cocktail shaker filled with ice. 

Cover, then shake.

Double strain into a flute glass. Top with champagne. 

Garnish with lemon peel. 

Along the line of minty cocktails, the mojito is quite the contender. Feel refreshed with its sweet and citrusy flavor with herbaceous notes. It is perfect to have for brunch or at the beach.
Ingredients:
2 oz. White rum

3/4 oz. Fresh Lime juice

1 oz. Simple syrup

Splash Soda water

8 mint leaves

Ice cubes

Mint leaves (for garnish)
Preparation:
In a shaker glass, muddle the mint leaves and simple syrup together and add in the rum and lime juice. 

Add ice cubes, cover, then shake. 

Strain into a highball glass filled with glass. Top it off with soda water. 

Garnish with mint leaves.
Whether you're new in town or want to discover gems in your area, feel free to go over ThebestBARS.club. They will introduce you to many different bars in various locations. So the next time you plan to imbibe, you can count on these classic cocktails to complete your night.